The archos Jukebox Recorder.
Available from Archos Technologies, this gadget is one of only a few competitors in the portable mp3-player market with (notebook 2") harddrives.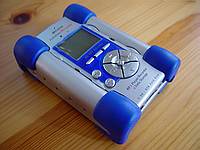 In a recent review of such devices by German pc tech magazine c't the Archos player did fairly well compared to the first ever (and by many still regarded best) player, the HJB-100 by Han-Go and - of course - the new Apple iPod. One thing to mention is that there're several models available. Of these I can only recommend the Jukebox Recorder, as it has completely different 'insides' and delivers better sound quality than the Studio20 or classic Archos Jukebox. Besides the dot-matrix display and operation have been greatly improved. Some online resellers equip it with a 20 gig harddrive from the start - an option that is not currently available by archos itself. From looking at the player, it should be fairly easy to do it yourself once you need more space ;) As much as I like the new iPod for its sleek design I wouldn't really like to be stuck with the 5 gig drive Apple uses - as I understand the drive uses custom connectors and will not be upgradeable ...
So - how does it sound? When connected to a decent hifi system via the (included) rca / jack adaptor cable sound quality seems to be really good (at least for a device of that class. A bit of a pity is that there's no *real* line-out jack to be found, that way the signal can't be bypassed and is always affected by the players sound settings. There's bass level, high level, loudness and 'bass boost' - the latter's especially crappy. Which doesn't come as a surprise of course ;) In addition to the analog output jack there's a combined digital in/out jack. Digital input (for mp3 recording) works very nice, but as I don't own a digital amp I couldn't so far test the output. I would expect sound quality to improve even more that way.

Frequencies ...
I by no means regard myself as a qualified engineer for the testing of audiophile equipment. Audio engineering is just an interest, perhaps even a hobby for me - and besides that I had quite a bit of insight through my studies, especially during the time I studied abroad at the University of Salford. For the following test I generated a wav containing a frequency sweep (16 Hz to 22.000 kHz at a 100% sound level), encoded it at 256 kBit / sec and re-recorded the signal the Archos player produced. Kind of complicated, huh? Thing is the Archos doesn't play anything other than mp3. Below are my findings, first is a spectral view of the original mp3 file, below that is the re-recorded archos output.
Clearly visible is the enormous frequency range of the Archos jukebox. The manual (and c't magazines review of the device= stated that the frequency range stops at 19 kHz. At least with my unit, that's not the case :) Though almost nobody would ever realise that as an adults hearing normally stops at 17 to 19 kHz. More important, there's some disturbance in the higher frequency range. Unfortunately I can't tell if these are produced by the player itself or my recording equipment. One other thing quite definitely caused by my PC is the usual 50 Hz disturbance in the recorded file. Sound level is quite a bit less on the re-recorded file (about 15 %) - but I didn't want to edit anything for that test.
What I didn't understand about the source mp3 is the strange line in the spectrum near the end of the file. It does seem like an encoder error (I used Fraunhofers encoder at 256 kBit / sec constant bitrate)
Conclusion
To me the Archos Recorder's performance seems quite impressive. Given the right material (in terms of quality), the player clearly performs very well. Both from listening tests and audio measurements there's very little hiss and so far I didn't encounter a single mp3-encoded file (whithin the players specifications - bitrates range from 32 to 320 kBit) that wouldn't play or sound strange. That's definitely an improvement when compared with my Yamakawa AVPhile 715 which tends to be picky about certain formats (especially VBR and low-bitrate files).
Besides all the audio tech stuff this is one hell of a gadget - a portable harddrive CAN come in handy some times ;) I own this thing since about three months now and I wouldn't want to be without it any more. Anyone interested in a car CD changer? I don't think I'll use it ever again *G*. I guess I'll have to give it the
Very much recommended
award :) In case you want to buy I recommend guenstiger.de as prices can vary up to 100 €.